---

If you have already placed any items in your Shopping Cart, you can click here to see the contents
Otherwise, start or continue Shopping below by using the 'Add to Cart' buttons.
---
DIY House Surveying Equipment - with free Professional Advice - 01626 872886
Damp Meters - Book on Damp Diagnosis - Condensation Test Strips -
Humidity Testers - Surface Temperature Tester
Wall Crack Movement Tell Tales - Protimeters - Damp Wall Testers
Next Day UK Low Cost Delivery of all Surveying Equipment
Note - prices exclude delivery and VAT - call for Trade and bulk prices.
---
Damp Meters
Damp Meter - Pin Type
Professional Damp Meter with Timber and Masonry digital scales, battery and calibration test facilities.
Tip - ask for our FREE guide Data Sheet which describes how to use Damp Meters and explains the meaning of common patterns of readings.
Ring us for Free Help on 01626 872886 .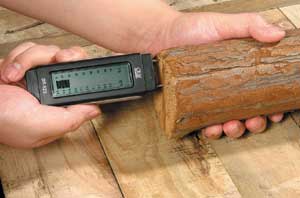 Damp Meter being used in wood
Buy Professional Grade Damp Meter
---
Damp Book
Quick DIY Master Class in Dampness and Condensation - become your own Expert in 1 hour! Buy our "Dampness in Buildings" reprinted book by the great expert Graham Coleman. A great read, short and to the point.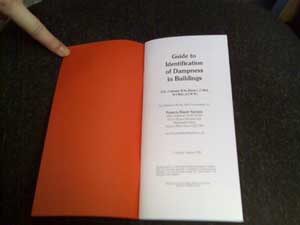 Buy Masterclass Book Reprint
£9.99 plus VAT -
Buy Masterclass Book as a Download to your computer
---
Humidity Meter
Home Condensation Monitor - measures air temperature and moisture content
Handy Hygrometer for measuring Relative Humidity and Air Temperature. This allows you to prevent Mould growth by either regulating the heating and ventilation, or by adjusting your Dehumidifier. A vital tool for assessing the risk of Condensation.
Jumbo Size Readout with Memory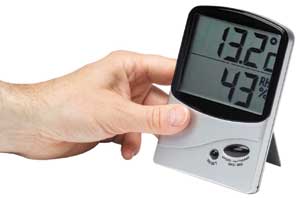 Buy Jumbo Size Readout
---
Temperature Test
Cold Spot Thermometer - infra red with Laser pointer - point and read
An infra red instant surface temperature is read on the display and can be stored in the memory. The Laser Pointer can be selected to read exact positions, ideal for checking for cold spots on walls. Frequently used where penetrating dampness is suspected, to detect dirty walls ties and locate gaps in cavity wall insulation.
Point and click Surface Thermometer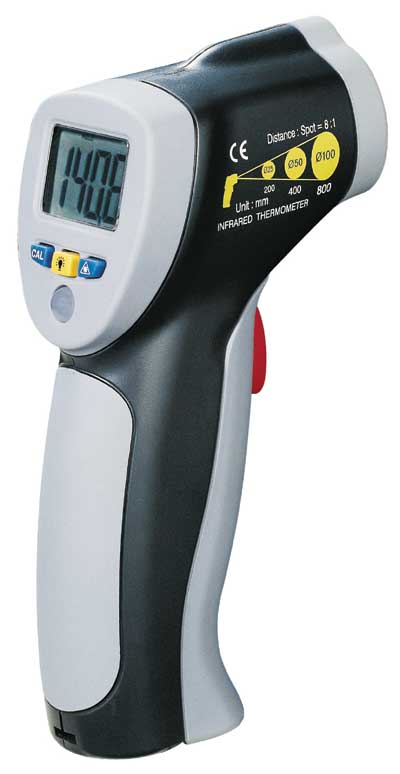 Fitted with Memory
Buy Surface Thermometer
---
Crack Movement Test
Standard Tell Tale - as shown above. Held in the central start position, ready for fixing, with tape, which you simply cut with a knife once the unit is screwed or glued in place.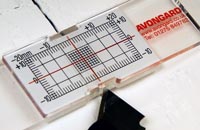 Buy Standard Tell Tale Kit
£14.98 plus VAT -
---
Tell Tale Plus - as above but with four pegs to locate the unit in the central, start position.
You remove the four pegs once the unit is screwed or glued in place.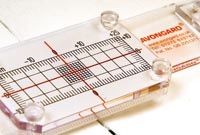 Buy Tell Tale Plus Kit
£19.98 plus VAT -
---
Corner Tell Tail - monitors horizontal and vertical movement across a crack in a corner.
Use singly to monitor two dimensional movement, or use in pairs to monitor three dimensional movement.
Reconfigure the Tell Tale components to monitor cracks between ceilings and walls or floors and walls.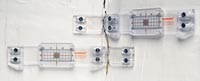 Buy Corner Tell Tale Kit
£39.86 plus VAT -
---
Displacement Tell Tale - monitors horizontal and displacement movement where there is a "step" across a crack due to displacement or "out of plane" movement. The Tell Tale consists of three components.
A base plate (not calibrated) a top plate (which is calibrated) and a graduated ruler.
The ruler is not left on the gauge but is used to measure the relative movement in the two plates each time you test the situation.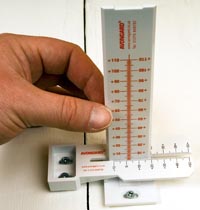 Buy Displacement Tell Tale Kit
---
Protimeters
Protimeter Mini - The Protimeter Mini can be used for making rapid moisture assessments in a wide range of building materials including wood, masonry, drywall, plaster and concrete. The instrument measuring pins are small and sharp which means measurements can be taken at the surface with virtually no mark left behind.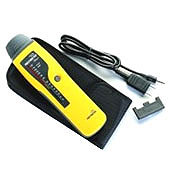 Buy Protimeter Mini
£125.00 plus VAT -
Protimeter Surveymaster - The Dual Mode Moisture Meter.
The NEW Surveymaster incorporates two modes of operation - search and measure (non-invasive and pin type). Search and measure enable the user to distinguish surface moisture from sub-surface moisture, essential information when trying to establish the extent and cause of a moisture problem.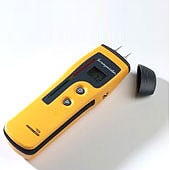 Buy Protimeter Surveymaster
---
Laboratory Damp Tests
Damp Tests
Salts Tests (3): Sulphates, Chlorides, Nitrates - from one surface material sample (i.e. a 'matchbox' full of paint scrapings, wallpaper pieces or plaster skim)
Moisture Test (1): Total Moisture Content, Hygroscopic Moisture Content, Free Moisture Content - from one mortar joint behind the plaster or render - send at least one 'matchbox' full.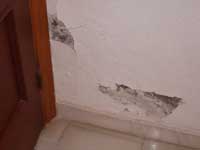 What is going on here?
Is it really natural Rising Damp?
For both types of Test to be accurate you must send the Samples in well sealed plastic bags, inside another well sealed plastic bag.
NOTE - for accurate analysis multiple samples need to be taken from the correct positions relative to the visual damage - ask us for advice before spending money on Laboratory Tests.
Buy Damp Tests - one test
£26.50 plus VAT -
Buy Damp Tests - set of 4
£99.98 plus VAT -
---
Surveying your own property for dampness problems: a few tips
1. True natural Rising Dampness is the least likely cause of your problems
2. Damp Proof Courses do not break down - usually they are merely covered over ('bridged')
3. High ground levels, faulty gutters, downpipes and overflows are the main culprits
4. Ask us for free advice before spending money
5. Whatever you do, DO NOT buy Damp Proofing or Replastering until you know what is causing the problem.
---
Shopping on our Site is Safe!
When you provide us with any personal information including your name, address, e-mail and credit card number, it is processed over a secure connection on secure servers. We use Secure Socket Layers (SSL) to encrypt all information you provide before sending it to our servers. SSL is the industry standard and the best software available for secure ecommerce transactions.

We accept the following cards: Maestro, Visa, MasterCard

SECURE PROCESSING
---
Damp | Plastering | Membrane | Damp Meters | Anti-Mould Additives | Privacy Policy | Returns Policy | Contact
---
Property Repair Systems

T: 01626 872886
---
Use any of our Shopping Pages to place goods in your Shopping Cart - they all use the same Shopping Cart system.

Click to view your Shopping Cart
or continue shopping by clicking on our Membrane Shop link below.
---
Other Property Repair Systems Sites:
www.boron.org.uk - how to use Boron based insecticides/fungicides to treat timber rots and insect attack
www.dampness-info.co.uk - how to treat penetrating dampness in walls and plaster
www.deck-treatment.co.uk - how to treat patio decks and yacht decks
www.dryrot.biz - how to kill Dry Rot in buildings
www.epoxy-info.co.uk - epoxy resins for repairing wood, concrete, brick and stone
www.fire-door-paint.co.uk - upgrade doors to 30 minutes fire resistance
www.joist-repair.co.uk - how to quickly repair joists and beams of any size
www.propertyrepairsystems.co.uk - our Home Site
www.steel-fire-paint.co.uk - treat steel with Intumescent Paint to provide fire protection
www.timber.org.uk - systems of repair, with step by step methods
www.timber-repair.co.uk - how to repair timber beams
www.woodworm-info.co.uk - how to kill and prevent woodworm and death watch beetle
www.woodworm-expert-advice-forum.org.uk - all your questions and our answers about woodworm treatment DIY
---
Site written by: David Moore
David Moore, B.A. (Hons.), C.T.I.S., C.R.D.S. Technical Author
Google+
---