---
Foundation waterproofing using Geotextile Membrane
Underground Waterproofing - easy to install, plastic membrane with filter mesh facing - easy fix with bang-in plastic plugs, covered in mesh ready to plaster.
membrane material - plastic 8mm dimpled sheet on a roll with welded on Geotextile mat filter material. Easy to cut and trim with scissors or knife.
sealing and fixing - special Mastic Rope and Tape, with plugs to suit both wall fixing methods.
wall primer option - in most cases Technoseal Liquid DPM is applied as a primary foundation coating.
perforated ground drain - essential at the base of the wall, to act as a conduit for the removal of drained water.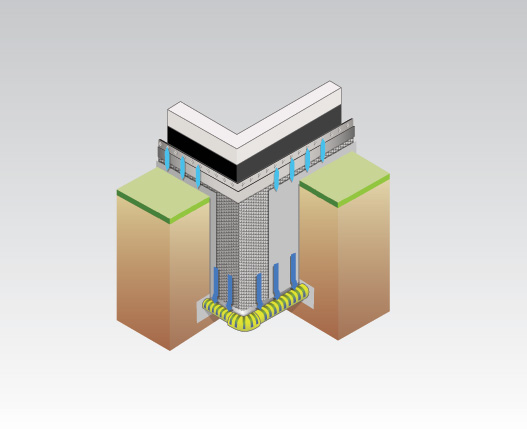 ---
Waterproofing 'GEOTEX' Membrane
As used by the Trade - Geotex is easy to fix on any type of masonry
1. Kit includes 25 square metres of membrane - 2 metres wide x 12.5 metres long
2. Comes with plastic hammer-in plugs and waterproof seals, ready to use
3. No special tools required - just drill 8mm holes.
4. Quick to install - drill & bang-in the plugs
5. Top edge trim - fix the Profile Strip at ground level
6. Effective - as used by the Professionals for old and new wall waterproofing underground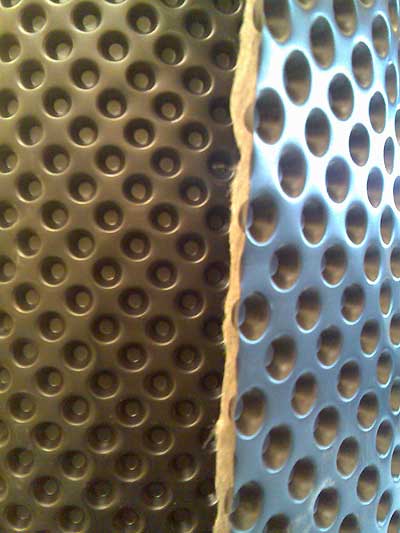 Waterproof Membrane with Geotextile mat showing at the edge
---
Geotex Top Fixing - optional screwed method
Geotex close up showing studs (8mm) and textile filter mat

To follow the installation in an existing building, if an underground extension is being installed, you may also need to fit a new Damp Proof Course, to comply with the relevant standards. This should be injected at least 150mm above exterior ground level.
To comply with the Building Regulations you will also need a second damp proofing barrier - we recommend either Cement Based Tanking or Technoseal Liquid Rubber.
Call us on 01626 872886 for a Free Geotex Specification and Costing
---
How to install a damp proof course - start your Geotextile at this level, hanging downwards
First, check for high ground levels, leaking gutters and downpipes, water leaks. A Damp Proof Course must be at least 6 inches (150mm) above abutting ground level (whether internal or external), to avoid splash up or 'bridging'.
1. Drill 12mm diameter holes at 120mm intervals in the mortar course (or via the brickwork, angled down to meet the mortar course) selected to be at least 150mm above outside or abutting ground level
2. Fit the extension nozzle to the cartridge tube and load into the skeleton gun
3. Inject cream from the bottom of the hole outwards until the hole is full.
4. Replaster to our specification.
5. Treat any skirting boards or joinery with Boron Ultra Gel.
Holes can be capped with mortar or fitted with a plastic plug
Replastering to a minimum of 1.2 metres internally, to our specification, using sand and cement and Rendapruf integral waterproofer, is required to finish the job and to prevent 'salts' damage to plaster finishes and decorations.
Our Products required: Quick Cream DPC, Skeleton Gun - either a 400cc or professional 1000cc
Optional Products: Rendapruf Replastering Additive (5 litre), Wall Plugs, Boron Ultra Gel (2.5 litre), UltraProof exterior wall treatment (5 litre or 25 litre), Anti-Mould Paint (2.5 litre), Professional Skeleton Guns (400cc or 1000cc), Professional Extension Nozzle (for repeated use with 1000cc cartridges)
Tools Required: 12mm masonry bit, electric hammer drill, eye protection
Click here to go to the Damp Shop
---
Damp Proofing Cream - Typical usage rates:
4.5 inch thick (115mm) single leaf wall - 1000cc (1 litre) per 9 metres, inject from either side
9 inch thick wall (230mm) double leaf solid or cavity - 1000cc(1 litre) per 4.5 metres, inject from one side or from both sides.
18 inch thick wall (460mm) solid or random fill - 1000cc (1 litre) per 2 metres, inject from both sides
---
Damp | Plastering | Membrane | Damp Meters | Anti-Mould Additives | Privacy Policy | Returns Policy | Contact
---
Property Repair Systems

T: 01626 872886
---
Use any of our Shopping Pages to place goods in your Shopping Cart - they all use the same Shopping Cart system.

Click to view your Shopping Cart
or continue shopping by clicking on our Membrane Shop link below.
---
Other Property Repair Systems Sites:
www.boron.org.uk - how to use Boron based insecticides/fungicides to treat timber rots and insect attack
www.dampness-info.co.uk - how to treat penetrating dampness in walls and plaster
www.deck-treatment.co.uk - how to treat patio decks and yacht decks
www.dryrot.biz - how to kill Dry Rot in buildings
www.epoxy-info.co.uk - epoxy resins for repairing wood, concrete, brick and stone
www.fire-door-paint.co.uk - upgrade doors to 30 minutes fire resistance
www.joist-repair.co.uk - how to quickly repair joists and beams of any size
www.propertyrepairsystems.co.uk - our Home Site
www.steel-fire-paint.co.uk - treat steel with Intumescent Paint to provide fire protection
www.timber.org.uk - systems of repair, with step by step methods
www.timber-repair.co.uk - how to repair timber beams
www.woodworm-info.co.uk - how to kill and prevent woodworm and death watch beetle
www.woodworm-expert-advice-forum.org.uk - all your questions and our answers about woodworm treatment DIY
---
Site written by: David Moore
David Moore, B.A. (Hons.), C.T.I.S., C.R.D.S. Technical Author
Google+
---